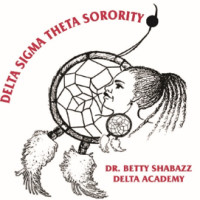 ---
Dr. Betty Shabazz Delta Academy
---
The Dr. Betty Shabazz Delta Academy provides an opportunity for local chapters of Delta Sigma Theta Sorority, Inc. to enrich and enhance the education that our young teens receive in public schools across the nation. A primary goal of the program is to prepare young females for full participation as leaders in the 21st Century. Delta Academy aim's to shape well rounded young women by focusing on character development, healthy choices, and service learning for preteen and early teenage girls 11-14 years of age. Academy sessions are centered around math, science, technology and African American History.
Introduced to the Bloomington-Normal community in 2001, our focus has been the personal development of young ladies, with specific attention given to the areas of self-esteem, writing, mathematics, science, and technology.
Meeting monthly during the school year, guest speakers and volunteers present fun and educational activities through hands-on instruction. On occasion, the girls will participate in local community events that align with our program's goals and objectives. Upon successful completion of the program, our participants are awarded with a special outing.
Co-sponsored with the Boys and Girls Club of Bloomington-Normal, our Delta Academy participants have full access to the programs and services at the Club.
IMPORTANT DATES
Application Deadline: Friday, November 19th, 2021

Applicants to be Notified: Tuesday, November 30th, 2021

Fall programming to Begin: Saturday, December 18th, 2021 and will be held on the third Saturday, through May 2022.
LOCATAION
All meetings/events will be held virtually via Zoom through December 2021. Spring 2022 program location is TBD pending organization guidelines set by the National Headquarters of Delta Sigma Theta Sorority Incorporated.
ELIGIBILITY
Membership into the Delta Academy program is held once a year. The following criteria will be used to determine eligibility:
Entering or attending middle school/junior high in the fall (grades 5-8) and/or 11-14 years old

Submit with Parental Signature the "Agreement to Participate"
Submit with Parental Signature the "Agreement to Participate"
Please feel free to contact the
Bloomington-Normal Alumnae Chapter Education
Committee Co-Chairs for more information.
Jamillah Gilbert or Asia Patterson at
delta_academy@dstbloomington-normal.org
We appreciate you taking time to apply for membership in our Delta Academy!